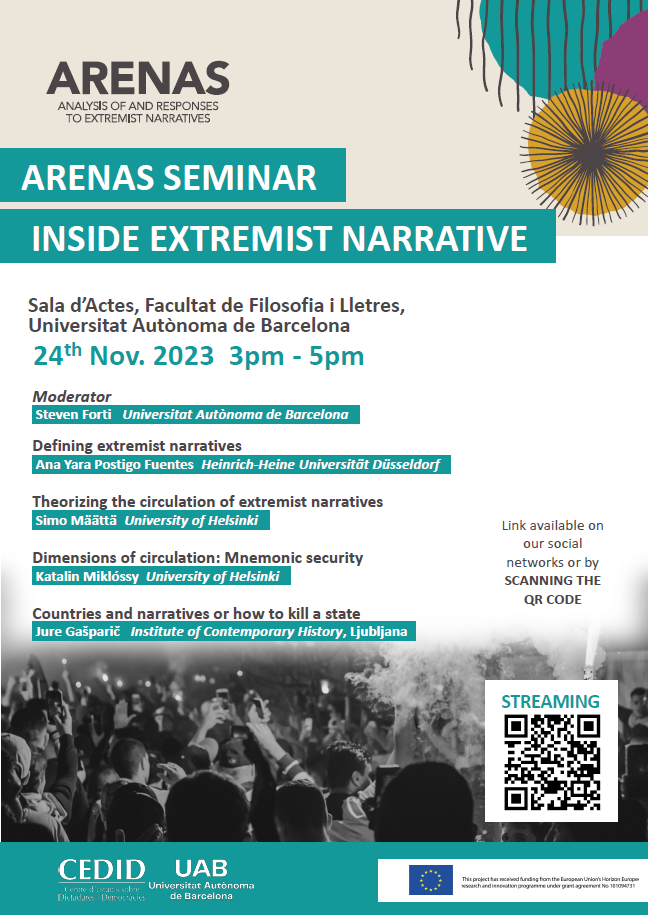 As part of its role in ARENAS, the Universitat Autònoma de Barcelona is hosting a seminar on November 24th.  Moderated by Steven Forti of Universitat Autònoma de Barcelona the seminar title is Inside Extremist Narratives and features presentations from consortium members from four ARENAS project partners. The seminar takes place from 3 pm to 5 pm and will be live-streamed, you can access the livestream from the QR code in the flyer here or from the link below.
To begin the afternoon Ana Yara Postigo Fuentes of Heinrich-Heine-Universität in Düsseldorf will deliver a paper entitled Defining Extremist Narratives.  The objective of Ana Yara and her team is to develop an operational definition of extremist narratives for ARENAS. They aim to identify relevant stakeholders and topics, create a corpus-based approach to detect patterns in extremist narratives and analyse connections using topic, sentiment, and keyword analysis.
The second presentation will be delivered by Simo Määttä from the University of Helsinki. Simo's research focuses on the wider social context and consequences of language use, linguistic rights, and inclusion and exclusion via language use.  He has particular expertise in the critical discourse analysis of hate speech. Simo is leading a specific task in ARENAS which examines the circulation of extreme narratives in the media. His presentation will address Theorizing the Circulation of Extremist Narratives.
Next Katalin Miklossy, also from the University of Helsinki, will deliver a paper on Dimensions of Circulation: Mnemonic Security. Katalin's background is in the area of political and legal history studies.  She has particular expertise in the history of the rule of law and its connections to nationalist and conservative narratives. ​As the Leader of Work Package 6 for ARENAS Katalin is co-ordinating research on the topics of Ethics, Norms and Politically Sensitive Science.
The final speaker at the Seminar is Jure Gašparič from the Institute of Contemporary History, Ljubljana. Jure is a historian focused on parliamentarism and the contemporary political history of Central and South Eastern Europe. For the ARENAS project, he is engaged in all the tasks that examine the circulation of extremist narratives and is particularly focused on the circulation of extremist narratives in national and transnational political contexts. For this seminar, his paper will consider Countries and narratives or how to kill a state. 
Join the seminar livestream at this link or by scanning the QR code above.